Our goal is to better understand the Eoganachts septs, 500-1000A.D. by researching their descendants.
Groups 1-3 are in the South Irish/Eoganacht septs research group. Members in group 4 that have Eoganacht cadet branch names need to be identified and placed in group 3.
I am in the process of collaborating with Dr. Klyosov in writing a research paper to publish the results of our Case Studies on the Eoganachts:
My goal is to identify the yDNA of the Eoganachts. The Eoganacht descendants in my FTDNA projects are approx. 50% South Irish modal haplotype and the rest being from indigenous and non-indigenous people. I will build family trees and branches from clusters using Dr. Anatole Klyosov's mutation rate calculations. I attach known available family histories to the YDNA family trees and branches. The result should be very informative.
Haplogroup STR Analysis: We use str haplogroup analysis along with Deep Clade and SNP testing to determine a member's haplogroup. STR haplogroup analysis is based on theory and may be used to predict Deep Clade or SNP grouping, however only Deep Clade or SNP testing can confirm a members haplogroup. DNA results less than 67 markers are less accurate. If you wish to improve the accuracy of your predictive results, upgrade to at least 67 markers.
Eo'ganacht Current Research Results: (sampling not random but based on project members) 12/16/2011 includes Eoganacht, South Irish, Sullivan and Mahoney projects. Group 4 results are not included in the statistics since they are not in the research group.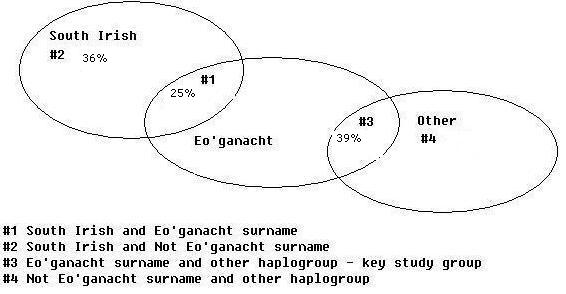 1 Eoganacht/Dal Cais surname and Irish Type II
Chaisil - Sullivan
0.15
69
Chaisil - McCarthy
0.01
5
Chaisil - Dennehy
0.00
2
Chaisil - McGillicuddy
0.00
1
Chaisil - Sullivan MacCragh
0.00
1
Glendamnach - Keefe
0.00
2
Raithlind - O'Mahony
0.06
28
Raithlind - Connell
0.01
4
Raithlind - Donoghue
0.00
1
Raithlind - Hea
0.00
1
Raithlind - Lynch
0.00
1
Aine - O'Kirby
0.00
1
1 Subtotal
0.25
116
2 Non Eoganacht/Dal Cais surname and Irish Type II
2 Subtotal
0.36
166
282
3 Eoganacht/Dal Cais surname and Not Irish Type II
Chaisil - McCarthy
2
Unknown (GD > 9)
(1)
0.00
L159_2
(1)
0.00
Chaisil - Sullivan
65
IrishI
(3)
0.01
IrishIII
(1)
0.00
Unknown (GD > 9)
(50)
0.11
P314_2
(2)
0.00
L159_2
(3)
0.01
L513
(5)
0.01
ElyCarroll
(1)
0.00
Chaisil - SullivanBarry
2
IrishIII
(1)
0.00
Unknown (GD > 9)
(1)
0.00
Chaisil - SullivanBowes
26
IrishI
(1)
0.00
IrishIII
(1)
0.00
Unknown (GD > 9)
(16)
0.03
L513
(1)
0.00
ElyCarroll
(7)
0.02
Chaisil - SullivanDoyle
1
590917
(1)
Chaisil/Raithlind - Callaghan
2
IrishI
(1)
0.00
IrishIII
(1)
0.00
Dal Cais - OBrien
1
Glendamnach - Keeffe
2
IrishIII
(1)
0.00
ElyCarroll
(1)
0.00
Raithlind - Connell
2
Unknown (GD > 9)
(2)
0.00
Raithlind - Donoghue
4
IrishI
(3)
0.01
Unknown (GD > 9)
(1)
0.00
Raithlind - Flynn
3
Unknown (GD > 9)
(3)
0.01
Raithlind - Hea
1
Unknown (GD > 9)
(1)
0.00
Raithlind - Long
3
Unknown (GD > 9)
(3)
0.01
Raithlind - O'Donnell
1
Raithlind - O'Neill
1
IrishI
(1)
0.00
Raithlind - O'Mahony
64
IrishI
(3)
0.01
IrishIII
(8)
0.02
Other
(1)
0.00
Unknown (GD > 9)
(44)
0.09
P314_2
(2)
0.00
L159_2
(2)
0.00
590917
(3)
0
ElyCarroll
(1)
0.00
Raithlind - Mongan
1
L513
(1)
0.00
Raithlind - Duggan
2
IrishI
(1)
0.00
Unknown (GD > 9)
(1)
0.00
3 Subtotal
0.39
183
183
465
4 Not Eoganacht/Dal Cais surname and Not Irish Type II
IrishI
9
IrishIII
10
IrishIV
2
L513
9
L371
0
L159_2
3
P314_2
4
Other
1
ClanColla
6
R_L21
0
Unknown (GD > 9)
211
4 Subtotal
262
Surnames in the Eoganacht sept project include
Eoganacht Chaisil
- MacCarthy, O'Sullivan, plus later O'Dennehy, MacGillicudy, O'Callaghan, MacAuliff
Eoganacht Locha Lien - Moriarty